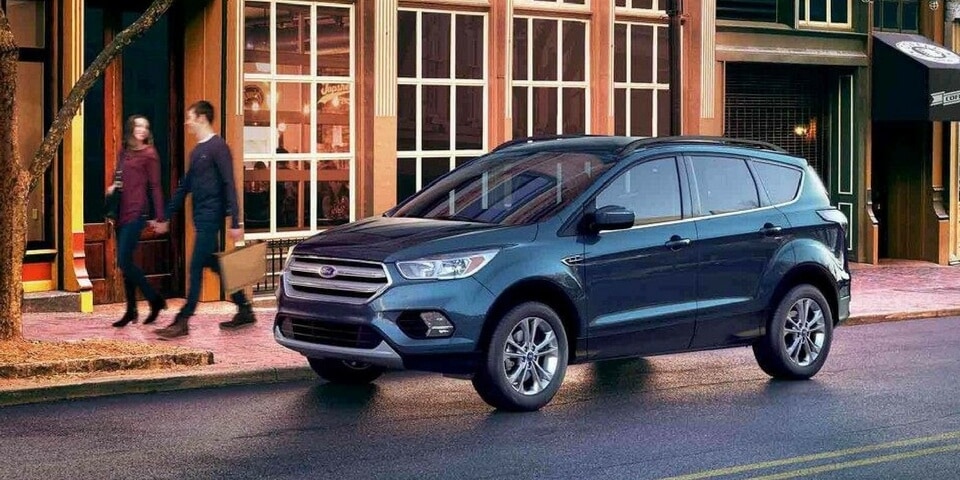 There are a number of factors in choosing whether leasing or buying a new vehicle is best for you. Leasing a Ford long-term or buying the vehicle through a loan come with different pros and cons. To help you understand the differences between leasing vs buying a Ford, we've put together this quick yet informtive guide comparing the two options. Below is a breakdown of each.
Ownership
| | |
| --- | --- |
| Lease | Buy |
| When leasing a vehicle from AutoNation Ford Bellevue, Ford will remain the owner of the vehicle. You will be permitted to use the vehicle for the length of the lease contract. At the end of the lease you will have the option to purchase the vehicle. | When you buy a new Ford from AutoNation Ford Bellevue you will own the vehicle once financing is completed. |
Initial Costs
| | |
| --- | --- |
| Lease | Buy |
| When starting a lease, you may pay "cap cost" reduction (what would be called the 'Financed Amount' in a loan), government, or lessor charges. Other costs include insurance, security deposits, the first month's payment and any prior lease or credit dues remaining. | When you buy your Ford, you could pay the full price and purchase the vehicle outright or you could make payments through a loan. Either way, you will be paying sales tax and other state, government or lender fees and taxes. Other costs include insurance, prior vehicle loan or credit balances, and, if financed by a loan, the first month's payments and a security deposit. |
Payments
| | |
| --- | --- |
| Lease | Buy |
| Monthly payments for a leased, new Ford are generally lower as you only pay for the vehicle's depreciation. Depreciation is measured by the vehicles market value over time and is not tied to the full purchase price of your AutoNation Ford Bellevue. Rental charges, sales tax, use tax and other affiliated fees are also associated with leasing a new vehicle. | Monthly payments for financed purchase of your new Ford are often higher due to paying for the entire price of the Ford, including state taxes and fees. Though, you will own your Ford at the end of your loan's term. |
Restrictions
| | |
| --- | --- |
| Lease | Buy |
| Some lease requirements restrict lessees from moving out-of-state with the vehicle. If you are considering a future move, you should check the terms of your lease closely and speak with your dealer regarding questions. Additionally, most leases restrict the maximum number of miles the lessee can drive the vehicle per year, with overage charges for additional miles driven. | Buying a vehicle, either outright or by financing, often do not restrict moving within a country, but may restrict moves outside the country. There are no mileage restrictions or penalties with your own vehicle. You are free to drive the vehicle as you like. |
Insurance
| | |
| --- | --- |
| Lease | Buy |
| You will be required to keep insurance on your leased vehicle meeting the requirements outlined in your contract. | You will be required to keep insurance on your purchased vehicle meeting the requirements outlined in your contract. If the car is purchased outright, you will need to meet the requirements of your state. |
Wear and Tear
| | |
| --- | --- |
| Lease | Buy |
| Lessees are required to maintain their vehicle, including paying for wear and tear. Leases will specify what charges there will be for wear and tear upon return of the vehicle. | Purchasers won't pay for wear and tear up-front, but will have a decreased value, impacting trade-in or resale of the vehicle, if there is excessive wear and tear. |
GAP Coverage
| | |
| --- | --- |
| Lease | Buy |
| GAP insurance helps to cover the difference in the actual value of a vehicle and the balance remaining on financing in the event of a disaster, such as a total loss. GAP coverage is usually included in lease agreements. If it is not, you can usually purchase it. | GAP coverage is not required for financing a purchase it is still a good idea in case of a disaster, such as a total loss. Comprehensive and collision coverage may not cover the full value of the totaled car, but GAP insurance would. It is not usually included in loan agreements and must be purchased separately. |
Vehicle Return
| | |
| --- | --- |
| Lease | Buy |
| At the end of the lease term, there are several options. You could return your vehicle and get a new leased vehicle, you could walk away from leasing altogether, or, if you really enjoyed your vehicle, you could purchase your leased Ford at the end of your term. | When the last payment for your vehicle's loan leaves your account and you receive your Ford title, you OWN your vehicle! It's up to you to keep it, sell it or trade it. |
New Ford For Sale Bellevue, WA
Make sure to check out our latest
Ford Lease Deals
, or visit our
Finance Center
to fill out a finance application. If you need more information, feel free to visit AutoNation Ford Bellevue located in Bellevue, or give us a call at (425) 243-5203 to talk to one of our friendly and knowledgeable team members. We are eager to get to know you and your needs, and help turn your Ford dream into a reality today.
VIEW NEW INVENTORY